Classic Illustrations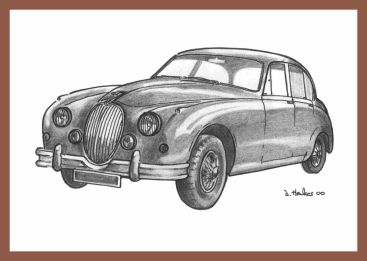 Doug Hawkes
unique classic vehicle artist
*
Your chance to own an original painting or sketch of your cherished vehicle by a well known illustrator at an affordable price.
---
Whether you are after an illusive gift for a friend or an accurate pictorial representation of classic motoring then LOOK no further. If you have ever thought of capturing your favourite vehicle on paper then you will realise the difficulty in finding existing prints, sketches, or paintings.
Classic Illustrations offers you the following benefits:-
The opportunity to own an original piece of artwork

The ability to capture the true lines of the subject vehicle

Each piece is individually identifiable

An investment
---
Prices
Sketches (based on size A5) INCLUDING standard frame £22.50
Oil paintings any format from £95.00
Why Classic Illustrations
Doug Hawkes is a trained illustrator and graphic designer and has developed a skill for capturing the true character of an individual vehicle in any media from pencil, through pastels to oils. The key to Doug's success is the authenticity of the finished article rather than mass produced drawings often seen at auto fairs.
To place an order:
To place an order for a sketch you will need the following:-
A representative picture of the vehicle in question

Details of where to send the finished article

Payment
For information regarding commissioned work:-
---
All enquiries welcome:-
Classic Illustrations
Bird on the Rock,
Clungunford,
Shropshire.
Telephone: 01588 660631
Fax: 01588 660631