Aphrodite
Natural Health and Beauty
Janet. L. Turnbull. BABTAC, RIPHH, AOR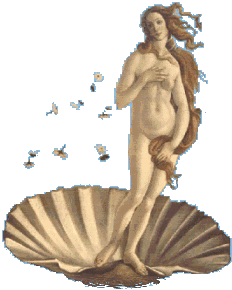 Beauty Therapist, Reflexologist, Bridal Make-up Specialist.
All skin care and cosmetic products used are all naturally enriched, organic products. They do not contain any ingredients, which are animal-derived other than non-injurious by-products such as honey and beeswax. They do not include any ingredients which have been animal tested. All products are hypoallergenic formulas.
No alcohol or chemicals are contained in any of the products.
There is a skin care range for everyone, together with natural and glamorous colours, effective sun/hair care and natural fragrances and nail polishes.
Bridal Bouquet
Skin care consultation []
Professional make-up [Includes rehearsal and on-the-day mini-facial and full make-up in the comfort of your own home/hotel.]
Facial Treatments
Skin Care Consultation [Mini facial and skin analysis]
Mud n' Scrub Deep Cleansing Facial [Deep cleaning using pure clay or avocado masques]
Relaxing Hot Towel Therapy [Essential for tired or dry/mature skin using natural apricot kernal oil]
Non-Surgical Face Lift [Ideal for tired skin and essential for that special occasion]
Aromatherapy Relaxing Facial Massage [A most relaxing facial using essential oils to relax and de-stress you]
Aromatherapy Relaxing Steam Facial [A very deep cleanse using essential aromatic oils in steam. Ideal for problem skin]
Lymph Drainage Facial Massage [De-toxifies your skin - ideal for problem skin]
Stress Release Facial and Specialised Massage [Relieves tension and stress of everyday life]
Acne Treatments [Deep cleaning treatment programme which cleanses the pores and softens the skin - using only natural products]
Body Treatments
Manicure - French
Manicure - English
Pedicure
Eyelash Tinting [Tint & Glue Test must be carried out at least 24 hours before each treatment]
Eyebrow Tinting [Tint & Glue Test must be carried out at least 24 hours before each treatment]
Eyebrow Shaping
Lash and Brow Tinting and Shaping [Tint & Glue Test must be carried out at least 24 hours before each treatment]
Individual Semi-Permanent Lashes [lue Test must be carried out at least 24 hours before each treatment]
Make-up Lesson
Specialised Body Treatment
Self Tanning
Hot Oil/Deep Cleanse Back Treatment [Ideal for your holidays or for wearing that low back evening dress. Treatment includes lymph drainage massage, back scrub and apricot kernel oil treatment]
Hot Oil/Deep Cleanse Decolletage Treatment [ Again, ideal for your holidays]
Hair Removal
Leg
Bikini
Underarm
Arm
Eyebrow
Chest
Chin
Lip
Shoulder
Back
Aphrodite Special Offers
Complete Top to Toe [Includes Skin Care Consultation, Facial, English Manicure, Pedicure, Half Leg Wax, Eyebrow Shape & Eyelash Tint]
Pre-Holiday/Honeymoon Package [Includes Skin Care Consultation, English Manicure, Pedicure, Half Leg Wax, Bikini & Underarm Wax, Eyebrow Shape & Eyelash Tint]
Wedding Gift (Includes Skin Care Consultation, Make-up (including rehearsal), French Manicure, Pedicure, Half Leg, Bikini & Underarm Wax, Eyebrow Shape & Eyelash Tint]
Bridesmaids/Mother of the Bride [Includes Skin Care Consultation, Facial, Make-up (including rehearsal), English Manicure & Eyebrow Shape]
For further information including prices please contact:
Janet Turnbull for a professional and friendly services,
Telephone: 01293 542068
Mobile: 07747 842288
British Association of Beauty Therapy and Cosmetology

Royal Institute of Public Health and Hygiene

Association of Reflexologists
---