Aphrodite
Reflexology
Janet. L. Turnbull. BABTAC, RIPHH, AOR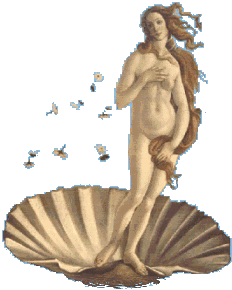 Reflexologist, Beauty Therapist, Bridal Make-up Specialist.
All skin care and cosmetic products used are all naturally enriched, organic products. They do not contain any ingredients, which are animal-derived other than non-injurious by-products such as honey and beeswax. They do not include any ingredients which have been animal tested. All products are hypoallergenic formulas.
No alcohol or chemicals are contained in any of the products.
There is a skin care range for everyone, together with natural and glamorous colours, effective sun/hair care and natural fragrances and nail polishes.
Reflexology
What is Reflexology?
Reflexology is an ancient form of healing from India, China & Egypt. The science of Reflexology embraces the idea that there are reflex points on the feet and hands which correspond to different organs, glands and parts of the body.
Reflexology releases toxins in the body, relieves stress, clear blockages, improves circulation, stimulates the body to heal itself and speeds up your metabolic rate.
Reflexology can help:
Reflexology does not claim to heal but can help the following:
Stress Related Problems
Migraine & Headaches
Insomnia
PMT, Menstrual & Menopausal Problems
Constipation
Asthma, Eczema & Allergies
Infertility
Backpain, Frozen Shoulder & Whiplash
High/Low Blood Pressure
Care of Terminally Ill
Post Operative Recovery
Arthritis
Sinus Problems
Aches & Pains
~ and many other ailments ~
You don't have to be ill to appreciate the effects of Reflexology:
Reflexology is a good way of making time and pampering yourself for once.
Just lie back and enjoy the wonderful feeling of deep relaxation a treatment can bring. It is like giving your mind, body and soul a month's holiday!
Reflexology will put your whole body back in tune.
Once this is achieved, it is advisable to have regular treatments every so often to help maintain good health and balance in the body.
Holistic Approach:
Treatment somebody as a whole
Treating the root cause not just the symptoms
Addressing underlying imbalance
Patient heals from within
Balance of mind, body & spirit
For further information and prices please contact:
Janet Turnbull professional and friendly services,
Telephone: 01293 542068
Mobile: 07747 842288
British Association of Beauty Therapy and Cosmetology

Royal Institute of Public Health & Hygiene

Association of Reflexologists
---